Cancer
'Let food be thy medicine and medicine be thy food' 
Hippocrates 460 BC – c. 370 BC
We receive a consistent bombardment of nutritional and health tips through the general media. This is usually backed up with some amazing new diet. One year something is healthy the next it should be avoided! This can leave us, at the very least, confused, Most of the answers on health are just common sense. Unfortunately we often bypass our common sense for more pressing matters such as lifestyle requirements.
Our health is determined by three main factors. What we place in our body, our environment and our thoughts. Our genes can play a role however this role has been greatly over stated. A classic argument is someone who says that because his father and grandfather died of a heart attack they will go the same way, when in effect the only thing they all had in common was their HABITS / lifestyles, (maybe. fatty diets, excessive alcohol, negative thoughts & behavior that resulted in stress, lack of exercise, obesity etc,etc.)
As we have seen in the political and economic sections decisions regarding our well being don't necessary match the best interests of 'Joe Public'. Decision makers and decision benefactors rely on conditioning us as to achieve their own objectives. As a result our opinions have been formed. We have been indoctrinated according to the decision makers 'needs'. By following the money trail those 'needs' can be found.
As we will see one of the most profitable health issues in the world today is that of cancer. It is said that more people live off cancer than die from it. Looking at the statistics in the films coming up this would appear to be correct. It is again a case of multi nationals pulling the strings.
The bottom line is that the health care system is a disease care system as opposed to a prevention system. Disease (dis-ease) and it's cure but particularly control is profitable , prevention is not!
The first documentary I present is based on Max Gerson's work of preventing, and in many cases curing, cancer. It is a fascinating insight into this man's work which is being taken forward today by his 85 year daughter Charlotte who herself was cured of tuberculosis aged 12 using the Gerson technique in the 1930´s.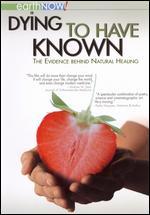 'Dying to have Known' Documentary filmmaker Stephen Kroschel asks whether the long-suppressed form of cancer treatment known as Gerson Therapy could truly be as effective as some cancer survivors claim in this film that offers a wide array of testimonies from medical specialists, health experts, and patients.
More than seventy five years after being proven to cure degenerative disease, Gerson Therapy is still virtually unknown to the masses. WHY? In order to seek out an answer to this question, Kroschel travels across both the Atlantic and Pacific Oceans, across the United States, and through Japan, Holland, and Mexico to speak with a wide variety of scientists, nutritionists, surgeons, and patients who have witnessed the powerful effects of Gerson Therapy firsthand. Watch it and make your own opinion…its fascinating.
The sequel to this film is 'The beautiful truth'.  Raised on a wildlife reserve in Alaska, 15-year old Garrett was interested in the dietary habits of their animals. After the tragic death of his mother, Garrett's father decided to home-school his son and assigned a book written by Dr. Max Gerson that proposes a direct link between diet and a cure for cancer.
Fascinated, Garrett embarks on a cross-country road trip to investigate The Gerson Therapy. He meets with scientists, doctors and cancer survivors who reveal how it is in the best interest of the multi-billion dollar medical industry to dismiss the notion of alternative and natural cures.
We have said that more people live off cancer than die from it. The Beautiful Truth is a movie that can put a stop to this travesty. Here is a very practical guide to the intensive nutritional treatment of cancer and other life-threatening diseases that many would consider to have been impossible to obtain. But thanks to the work of Max Gerson, M.D., and his daughter, Charlotte Gerson, this knowledge is readily available.
Max Gerson cured cancer. He did so with a strict fat-free, salt-free, low-protein, essentially vegetarian dietary regimen, based on great quantities of fresh vegetable juice, supplements, and systemic detoxification. The Beautiful TruthVersión en español
The next film I bring to your attention is 'Healing Cancer from the Inside out.' I attach a link to some reviews as well as the whole Healing Cancer From The Inside Out. film. Click here for trailer (Versión en español)

Healing Cancer from Inside Out – Part 1/3 por DocumentaryHD
Léčba rakoviny zevnitř – Healing cancer from inside out from Nové Myšlení, Nový Svět on Vimeo.
If you know anyone with cancer I recommend that they are at least aware of the content of Healing cancer from the inside out as well as the film 'Food Matters'. It would be in their hands henceforth to seek more information or even investigate curative possibilities for themselves. This film is also available for viewing on line by the producers for a small fee payable to the copyright owners. It truly is a small fee for some great information. Try using a media catcher for repeat views Click for Link to FOODMATTERS.
The final documentary on health is 'Crazy Sexy Cancer' Crazy Sexy Cancer is an irreverent and uplifting documentary about a young woman looking for a cure and finding her life.
In 2003, 31-year-old actress/photographer Kris Carr was diagnosed with a rare and incurable cancer. Weeks later she began filming her story. Taking a seemingly tragic situation and turning it into a creative expression, Kris shared her inspirational story of survival with courage, strength, and lots of humor.
With experimental treatment as her only option, Kris became determined to find answers where there were none. She traveled throughout the country interviewing experts in alternative medicine as she tenaciously dove head first into a fascinating and often hilarious holistic world. Along the way, she met other vivacious young women determined to become survivors. Their stories are as poignant and exciting as the women who tell them. As Kris's amazing journey unfolds, she realizes that healing is about truly living rather than fighting.
Crazy Sexy Cancer is more than a thought provoking film, it's an attitude! It's about rising to the challenge of life and turning lemons into champagne. Click Here for Trailer
Crazy Sexy Cancer promo from Kris Carr on Vimeo.